12 July 2012
8.42 PM
Hi guyss!! I wanna inform you the most recent update from my life...
Which is.............
I got the internship on METRO TV!!!
WOOOOOOHHHHHHOOOOOO~~~~~~~!!!
:D :D
So excited and sooooo HAPPY!
They willing to reschedule my work day to 23rd July so I can go to Medan first!! Hahahaha..
They're so nice.......
Thanks God for making my wish comes true!! :D
I also believe it has a connection with The Secret, I told ya all later, when I make special The Secret Post! ;D
Anyway, the second news is... Tommorow Im going to Medan, sooo sooo excited! I'll try to take lots of shot to post it here, in my blog! Hehehehe... Actually have lots of topic to post but so lazy.. =_=" Spending whole holiday only playing The Sims 3.. CKCKCKK.. +_+ Promise to myself to be lot more active on blogging life... :) BTW, Medan is known as Chinese Food Town... Lots of delicious food there.. Thinking about it already makes me drooling rite now... >,< and then, there's a Durian, my favorite fruit ever. Durian in Medan are verrrrrryyyy verryyyyyy yummmiiiiiiiieeeehhhh!! REALLY!! Everytime I stay there, my cousin bought lots of Durian for me, and I ate it every single night.. and thats how I gain my weight. =_=" so I hope I can maintain what I eat there.. LOLOL..
Oh yeah, here's some of my fun editing photo's LOLOL..
I love editing photos.. Even Im not that creative, but It's really fun and can makes me looks good, so why not? hahahaha ;p
So here we go..
First is normal pose & normal editing.. LOLOL...
Rilakkuma Couple Time! ;D
Crazy Hairstyle !! Do you think purple suit me? LOL..
Crazy Eyelashes.. LOL
Sweet Couple Photo ;p
I checking my picture folder and found some old crazy photo with Olip...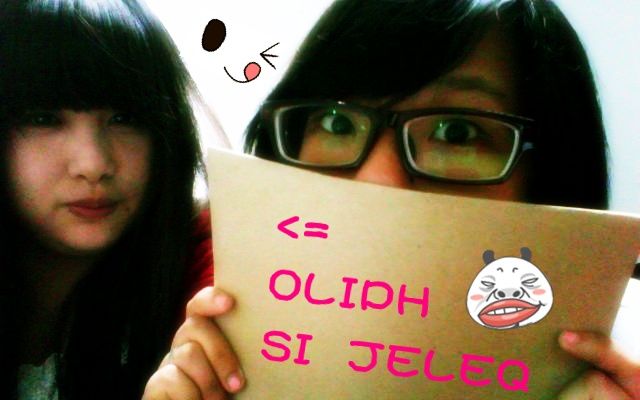 LOLOL... I found that camwhoring isn't fun without photoshoping.. So go ahead and explore with your photo editing program! ;D
*L